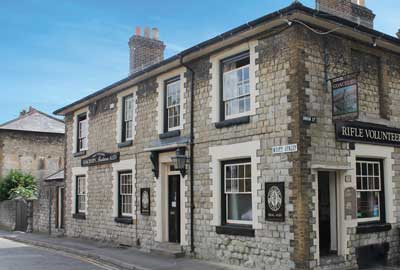 Opening times
Monday: 18-00 - 22 -00
Tuesday - Thursday 12-00 - 22-00
Friday 12-00 - 23-00
Saturday 12-00 -23 -00
Sunday 12-00 -18-30
Welcome to The Rifle Volunteers, a traditional Real Ale pub where good beer and good conversation take centre stage. You will not find televisions or juke boxes within these ragstone walls, just a warm welcome, superbly kept beer and a relaxed jovial atmosphere!
A Goachers Ale house we are proud to work in collaboration with this local brewery and exclusively stock their beers!
Regular features at the pumps are Fine Light (3.7% abv), Real Mild (3.4% abv) and Gold Star (5.1% abv) as well as Imperial Stout (4.5% abv) and Best Dark (4.1% abv) on a seasonal rotation.
You can read more about Goachers Brewery and the beers we stock on The Beer page.
We also enjoy the Goachers Green Hop at the end of September and Old 1066 Ale in Winter. Both ales are only brewed in limited supply so keep an eye on our Facebook for news on their arrival.
We also serve exceptional local Cider produced by Turners of Marsden using only Kentish apples. On offer are The Russet (8.1% abv), Medium (5.1% abv) and a more unusual fruit cider (Rhubarb, Cherry, Pear and Apple Pie) dependent on the season.
In addition to the above are a selection of wines, spirits and soft drinks.
The Rifle Volunteers Camra Pub of the year Runner Up 2022